According to wiki, Cornwall is home to over 60 cheeses, so if you're a foodie who happens to love cheese, then you should explore some of the amazing artisan cheeses made in Cornwall. The choice is endless: soft, hard, blue, cow, goat, and vegetarian. There are so many success stories and award winners to choose from, to suit every palette. Here is our guide to the essential Cornish cheese board.
Cornish Yarg
Probably one of the more familiar of the Cornish cheeses, Yarg is a semi-hard cheese made with cow's milk. Wrapped in nettle leaves which are left to mature leaving an edible, if not mouldy rind.
Yarg is simply "Gray" spelt backwards and is named after Alan and Jenny Gray who found a 1615 recipe for semi-hard cheese in their attic. The original recipe is thought to date back to the 13th century.
Although nettle is the traditional wrapping you will find Wild Garlic Yarg where the cheese is wrapped in wild garlic leaves and imparts a subtle garlicky flavour to the cheese. Check out https://www.lynherdairies.co.uk/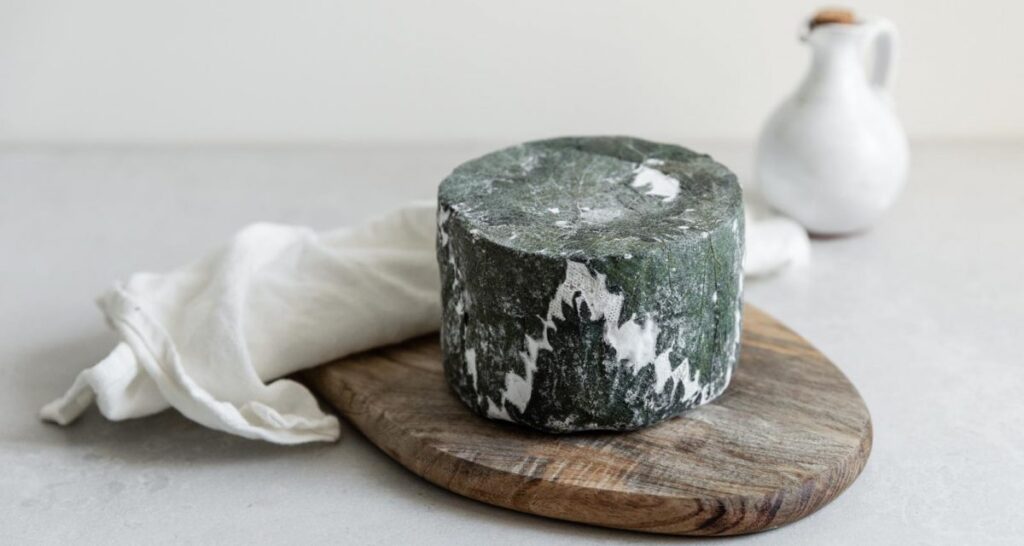 Cornish Gouda
This is a fabulous success story, and featured on Rick Steins TV series touring Cornwall. A hand crafted artisan gouda with different aged varieties including extra mature and vintage made from an old family recipe found in the attic?. It's a great alternative to parmesan too. The award winning 'Best Hard Cheese' is aged 10-12 months. It has great moisture and complexity of flavour – try it! Visit https://www.cornishgouda.co.uk/our-cheeses/
Cornish Kern
Cornish Kern is made in the same vats as Yarg and pressed and brined. Kern, rather than coated in nettles, is coated in black wax and matured for 14 to 18 months. Kern is a hard cheese made from pasteurised cows milk. Its flaky and quite dry with an intense nutty flavour. Kern is an award-winning cheese which has a longer finish in the mouth. Kern won the World Supreme Champion Cheese title in 2017.
Kern was inspired by Gouda, it's also reminiscent of Comté or Gruyère thanks to the Alpine-style cultures used in its making.  These cultures give a slightly sweet, and nutty flavour.  Kern is the Cornish word meaning "round". https://www.lynherdairies.co.uk/
Cornish Goats cheese
Goats' cheese has been around longer than you might think, and there's evidence of the cheese being consumed as early as 6500 BC. New Cornish goats' cheeses have been springing up all over the county.
Gevrik
Gevrik is a full fat goat's milk cheese. It has a clean and fresh taste with a wonderful nutty flavour. It develops a creamy, melting texture as it matures.
Nanny Muffet
This goats cheese is made by Whalesborough Cheese a small family business, making award winning cheeses in small batches. Nanny Muffet is a pasteurised, vegetarian, naturally mould ripened, washed curd goats' cheese. It has a a zingy fresh taste along with well-balanced citrus notes.
Cornish Nanny
Cornish Nanny is a mild and creamy blue goats cheese.  Currently a small production, hand made in the traditional farmhouse way. Launched in  2017, Cornish Nanny won Gold at the International Cheese Awards in 2018.
Keltic Gold
Keltic gold is a traditional semi-hard cheese made from pasteurized cow's milk. The edible washed rind is dipped in local cider during the production. The cider adds fruity and pungent aromas along with some distintive apple overtones and has a creamy smooth texture. Keltic Gold melts exceptionally well, and it's recommended to melt it into a fondue sauce, with an added sprinkle of nutmeg.
The milk comes from Trewithen Dairy and the cider from Cornish Orchards. The cheese has been supplied to Fortnum & Mason and Arsenal football club and the House of Commons.
Miss Muffet
This semi-soft cheese is made from pasteurized cow's milk and produced at Whalesborough Farm near Bude. The natural moldy rind is pink and gray in color and matured for 4-6 weeks. It has a nice creamy flavour and a smooth texture with nutty aromas, and has been likened to the best edams and Goudas. Miss Muffet has won numerous awards.
Cornish Brie
As the name suggests, this cheese is made in a Brie-style by Trevarrian Creamery on the North Cornwall coast using locally sourced milk. This rich Cornish milk is what gives the brie its characteristic yellow, buttery colouring and creamy flavour. Its also made using vegetarian rennet. Why not try their St Endellion Brie which is made with added double cream for extra richness and complexity – also suitable for vegetarians.
Cornish Blue
Produced on Stanfield's Farm, Cornish Blue is  made from pasteurized cow's milk and it's designed to be eaten young. The texture is dense, moist, sticky, and buttery and full of flavour. The aromas are mild, sweet, and creamy. Cornish Blue is an award winning cheese.
Cornish Camembert
This ripened Cornish Camembert is full of flavour, rich and creamy. Its hand made at Trevarrian, Newquaye using pasteurised cow's milk. The rind is a whitened grey and has a mushroom aroma and when cooked or left to room temperature it softens beautifully!
Cornish Smuggler
Cornish Smuggler is an attractive farmhouse cheese, with distinctive red marbling and perfect for lovers of a traditional cheddar style cheese. This award-winning cheese is produced by Sue Proudfoot of Whalesborough Farm in Bude, using local pasteurised cow's milk.
A natural vegetable dye, annatto, is mixed with the curds when placing it into the moulds which gives the colourful marbling through the cheese. Cornish Smuggler has a deep creamy flavour.
Stithians Cheese
Stithians is a limited edition, hard, pasteurised cows cheese produced by the lovely team at Lynher Dairies. The milk comes from their herd of Friesian cows. It is an artisan cheese made with vegetarian rennet and is named after the nearby village of Stithians. The cheese is not made very often and therefore can be difficult to get hold of.
Stithians cheese has a smooth texture with a few small holes and is yellow in colour. The natural rind can vary in colour from creamy yellow when young to rose through to almost black. It has a milky flavour and contains small calcium crystals. This is a medium strength cheese.
Cornish Cheddar – Davidstow
Davidstow cheddar takes its name from a village in North Cornwal, located between Padstow and Bude. Cheddar has been produced at Davidstow for over 60 years, the plant was set up there in 1951 by Cow & Gate.
Unparalleled Special Vintage Reserve cheddar with a pronounced tang, tempered by silky, creamy notes; presented in a distinctive black wax. The vintage cheddar is Multi-award winning with an intensely rich, complex flavour and crunchy texture; presented in a distinctive black wax. Davidstow's produces a range of cheddars with varying maturities from 12 to 60 months.
There is plenty of varieties to suit all taste palettes and a uniquely Cornish cheese board is sure to wow. Why not pair with some local Cornish wines too. See our blog 'What wines should I drink in Cornwall?