When we think of Cornwall our minds quickly turn to the sea and the amazing food that springs from over 400 miles of coast. Fishing remains an important part of the Cornish economy and its gastronomic culture; tasty, distinctive dishes that originated in coastal villages like Polperro and Mousehole many hundreds of years ago are still celebrated today.
The secret of their enduring appeal is fresh fish, a proud sense of history and the enthusiastic support of subsequent generations of cooks. Here is your guide to the fishy dishes you simply must try when in Cornwall.
Stargazy Pie
Dating back to the 16th Century, Stargazy Pie is undoubtedly one of Cornwall's most peculiar looking dishes, thanks to the fish heads that poke through its pastry crust and gaze up at the stars. Beneath lies a filling of potato, egg and the rest of the pilchards that is simply delicious. Try it in Mousehole, its place of origin, on Tom Bawcock's Eve (December 23rd) and remember the many fishermen who have braved rough seas over the centuries to keep villagers fed.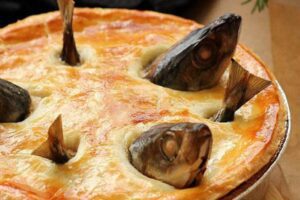 Seafood stew
Anyone with a thick bottomed saucepan, some fresh seafood and winter veg can cook up a tasty Cornish seafood stew. It's a fantastic dish to share with a large gathering of family and friends, particularly over Christmas. But if you want to try something extra special, we recommend you try Michelin starred chef Nathan Outlaw's stew in his Port Isaac restaurant, Outlaws. And of course Rick Stein's Seafood Restaurant in the centre of Padstow.
Newlyn Crab
You'll find good crab all over Cornwall but the really special ones come from Newlyn, near Penzance. The white meat (from the crabs' claws) is often served in sandwiches, with the richer brown meat used for stocks and soups. There are countless crab retailers in Newlyn along with some very special restaurants and pubs such as the Tolcarne Inn.
Simple fish suppers
It goes without saying that the catch of the day is best eaten fresh. Whether it's grilled sardines in winter or a shimmering mackerel sizzling on the coals of a beach barbecue in summer, the intense aroma and flavour of a lightly seasoned Cornish fish will stay with you long after you've retreated from the sea.
Cornish Lobster
Cornish lobster is recognised as the finest flavoured lobster in the world! That sounds like a bold statement but many of the renowned chef firmly believe Cornish lobsters are the sweetest and richest available. In Cornwall they are sourced from small inshore day boats. Best of all its sustainable too, thanks to the involvement and collaboration between fishermen and The National Lobster Hatchery in Padstow.
Hevva cake