Treating yourself to a special dinner or an indulgent lunch is a must when visiting Cornwall. But the experience doesn't always live up to the expectation, particularly when you discover that every other person seems to have had the same idea. What you really need is a place that's off the tourist trail, a hidden gem reserved for those in the know – like these excellent eateries.
Hidden Hut
Hidden gems don't remain hidden for long and often require booking many months in advance. You'll have no such problem at the accurately named Hidden Hut where spontaneity is the order of the day. Tucked away behind Porthcurnick Beach on the Roseland Peninsula, the hut was built during the war and designed not to be seen! Their ad-hoc lunch events are strictly last minute affairs, organised around the weather forecast and the availability of locally sourced ingredients. Food is cooked on an outdoor stove and packed for you to take away and devour on the beach. Previous lunches have included seafood paella, grilled mackerel, lobster and giant spider crab. Visit The Hidden Hut website.
Fern Pit Café (and ferry)
Accessible only by ferry at high tide, the Fern Pit Cafe is a longstanding institution found in a secret spot above Crantock beach on the outskirts of Newquay. This small beachside café has been running since 1910 and is practically the dictionary definition of a hidden gem. Locals come here to feast on their fine crab sandwiches, while seafood aficionados will delight in the live lobster and crabs on sale. When the tide is in, the ferry boat 'Sunshine' will carry you over the river to the beach for a small charge. At low tide you can reach the café for free via a footbridge.
Atlantic Coast Express
Named after the legendary Atlantic Coastal Express, this converted vintage train carriage serves cakes, crepes, coffee and ice cream to customers on the Camel Trail. But if you're looking for something a bit special, book a place at one of their Sunset Supper Clubs which run throughout the summer. The atmosphere is seriously laid back and the dining strictly al fresco, as chefs David Sharland and Eric Taylor invite you to relax beside the Camel Estuary at sunset. Food includes fish, seafood, a vegetarian option and some mouth watering desserts. ACE operates a bring your own bottle policy, and make sure you also pack a blanket, cutlery and glasses. Space is limited so book ahead.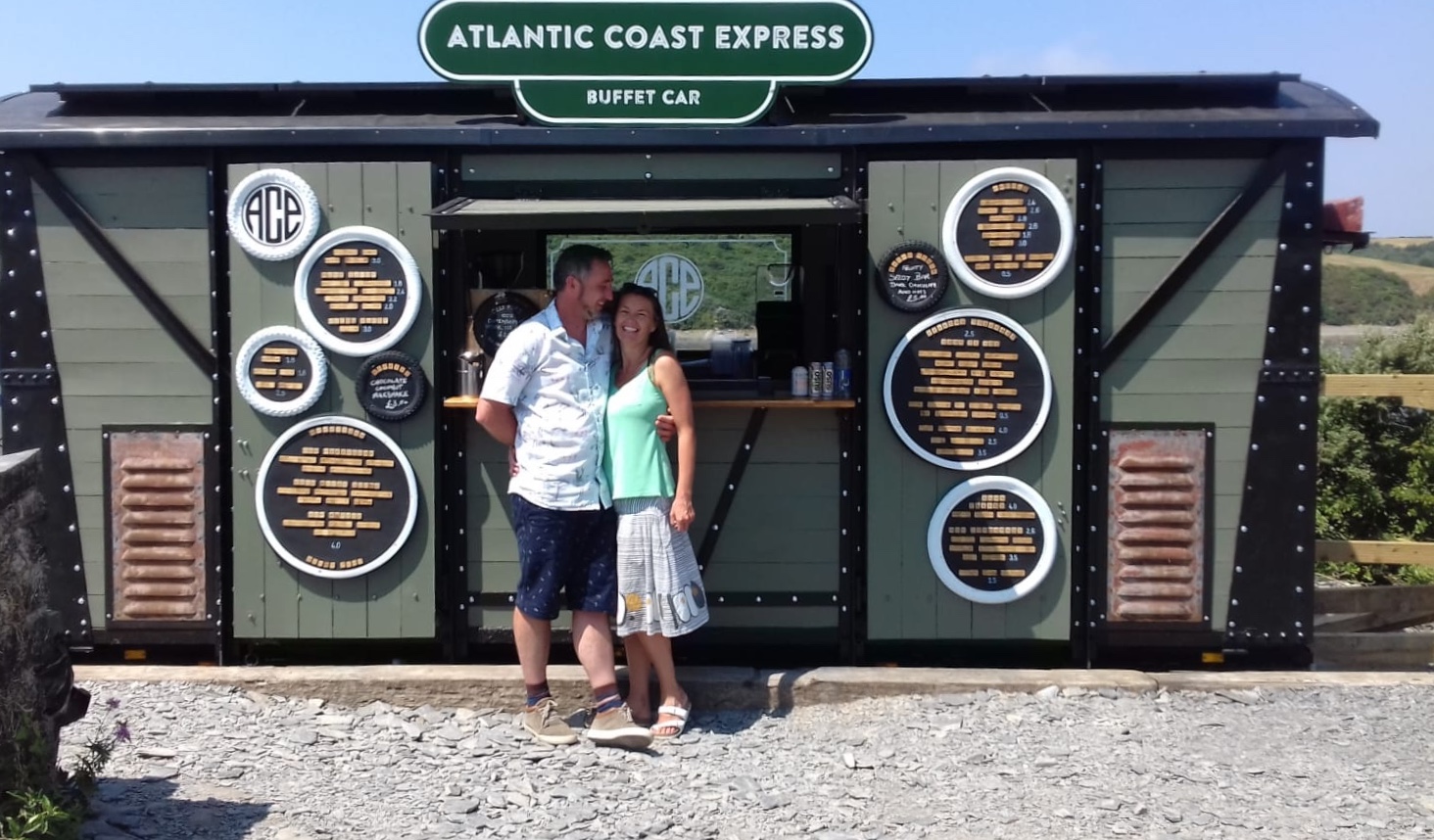 Lusty Glaze
Best known as an upscale and seriously romantic wedding venue, the Lusty Glaze café and restaurant is based on a private beach in a secluded cove outside Newquay. Since the pandemic, the team have redesigned their dining experience and recently launched a pop-up service run by Richard Mason, aka the Pickled Chef. You're guaranteed the very best seafood, Sunday roasts and sharing plates at these fun, mouth-watering events.