An hour's drive south of Kilden Mor is St Ives, a destination high on most visitors' list of essential places to visit in Cornwall. So what brings people there and why should you go? Whether it's the beaches, world class art galleries, atmospheric back streets or delicious seafood restaurants, St Ives has many aspects with something to suit all tastes and interests.
Approach
St Ives attracts a LOT of visitors but don't let that put you off. It is one of Cornwall's undisputed gems and, despite the crowds, doesn't feel like it's been 'ruined' by the tourist industry. But if you want to get the most out of your trip, it pays to plan, particularly during the summer months.
Make sure you pre-book where possible. Major attractions like the Tate St Ives are seriously popular and the best restaurants are booked in advance.
If you're driving, arrive early. You don't want to be spending your time trawling the town's various car parks. If you're not an early bird, we strongly suggest parking at nearby St Erth and catching the train into town. Taking you around the bay, it offers a unique view of town and sea and is one of the prettiest ten-minute journeys you'll ever take.
Fishing
St Ives was once one of the UKs busiest fishing villages. Most of the fishing boats in the harbour are now used for tourists, but look out for the 'Jumbos': Victorian fishing boats unique to St Ives. These attractive sailing vessels are still lovingly replicated today by boatbuilder Johnny Nance and operated by the St Ives Jumbo Association.
For a real taste of the sea visit The Sloop Inn, a fisherman's pub dated 1312, making it one of Cornwall's oldest inns. Outdoor benches on the cobbled walkway put you right on the harbour and the menu packed with seafood reflects that.
Art
St Ives was an artists' town long before the Tate came to town. The dazzling Atlantic light has attracted artists for hundreds of years and, in the early 20th century, an entire school of painters, sculptors and ceramicists made it their home. Foremost among them was Barbara Hepworth, one of the world's greatest modernist artists. Hepworth left instructions in her will for her home to be made accessible to the public and the Barbara Hepworth Museum and Sculpture Garden remains her monument, allowing visitors to witness her art in the very place it was conceived and created.
Beyond this, visit Leach Pottery, known as the birthplace and spiritual home of British pottery. Founded by Bernard Leach and Japanese potter Shoji Hamada in the 1920s, it is still a fully functioning studio.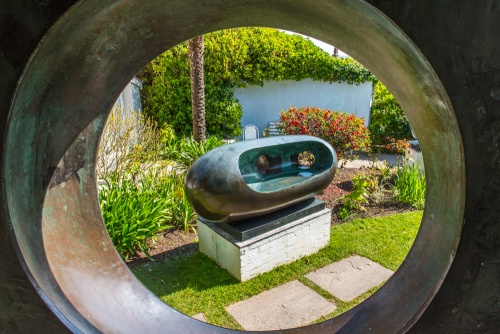 Food
St Ives is also a foodie hotspot. Porthminster's Beach Cafe is a relaxed seafood restaurant housed in a light filled Art Deco premises. Close by is Porthminster Kitchen, which offers gorgeous harbour views and a fabulous healthy menu.
Meanwhile, Fore Street has some fine dining options including One Fish Street which offers a single tasting menu daily based on the season and availability. Or check out the fish counter at The Seafood Cafe showcasing locally caught fish and shellfish fresh from the boat.
And for dessert, or just a seaside treat, visit the Moomaid of Zennor at the harbour with mouth watering flavours including salted almond, hazelnut praline and espresso martini.
Beaches
You're spoiled for choice in St Ives – take your pick from Porthminster, Porthgwidden, Porthmeor, Harbour, Lambeth Walk and Bamaluz. They're mostly sandy and within walking distance of the town centre. Porthmeor is probably best for kids, with great waves if you're learning to surf or bodyboard.
Come at Christmas and head to Porthminster for the Boxing Day dip. Or if you're not feeling that brave, gather with the many onlookers cheering the swimmers on as they purge the last vestiges of Christmas overindulgence.