When Yorkshire-born sculptor Barbara Hepworth moved to Cornwall in 1939, she was already one of the world's leading Modernist artists. Her bold abstract 'pierced figures' were as instantly recognisable as the work of Braque, Picasso, Miró and Mondrian.
The arrival of the war saw her family leave the capital for the artistic refuge of St Ives, but it was a move that almost brought her career to a standstill. The bombing of Hepworth's London studio in the blitz destroyed all of her current work and she was now confined to cramped conditions in shared accommodation. This, together with a scarcity of materials and the demands of family life, made sculpture almost impossible.
Making Waves
In 1943, Hepworth and her family moved to a larger property in Carbis Bay and she was able to resume sculpting. The influence of Cornwall now made itself felt on her work, and her sculpture moved beyond pure abstraction to being a comment on our relationship with the natural world. Hepworth referenced the sea and the rocky landscape as well as the moorlands.
The first masterpiece of this new era was inspired by a view of the bay at St Ives. Wave (1943-44) was a hollowed out wooden sculpture that resembled a shell, or the roll of the ocean with a spray of strings that represented 'the tension I felt between myself and the sea, the wind or the hills'.
Hospital Drawings
Hepworth's daughter Sarah was hospitalised in 1944 at the Princess Elizabeth Orthopaedic Hospital in Exeter. Her surgeon, Norman Carpenter, became friends with the family and a few years later he invited Hepworth into the operating theatre to observe his work. Between 1947 and 1949, she produced more than 80 exquisite works in pencil, ink, chalk and oil, collected in print as the Hospital Drawings.
In 1949, Hepworth bought a studio in the centre of St Ives that was to be her base until her death. 'Finding Trewyn Studio was sort of magic,' she wrote. 'Here was a studio, a yard and garden where I could work in open air and space.' As well as offering a space to work and live, she was now able to display her own monumental pieces in the garden.
One of the earliest pieces to come out of Trewyn was Contrapuntal Forms (1950-51), which was the biggest sculpture that Hepworth had made to date. Its two limestone figures moved from her garden in the middle of St Ives to the South Bank in London where they stood in the shadow of that icon of British Futurism, Skylon, during the Festival of Britain.
Madonna and Child
Hepworth's eldest son Paul tragically died in a plane crash in Thailand while serving with the RAF in 1953. She set to work soon after on a memorial, still displayed in the Lady Chapel of St Ives parish church. The Madonna and Child was carved in stone and spoke to her love of her children who she said never got in the way of her work. 'A woman artist', she argued, 'is not deprived by having children… one is in fact nourished by this rich life.'
St Ives legacy
Hepworth died in a fire at Trewyn studio in 1975 and was buried in Longstone cemetery in Carbis Bay, a plain slate headstone marking her grave. She left instructions in her will for her home to be made accessible to the public. The Barbara Hepworth Museum and Sculpture Garden opened the following year and remains her monument to this day, allowing visitors to witness her art in the very place it was conceived and created.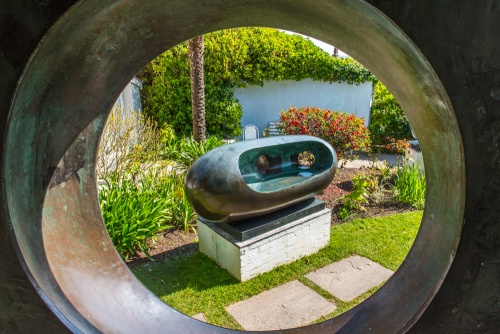 If you are interested in exploring the fabulous Art Galleries in the county read our guide on galleries within easy reach of Padstow.