Part 1 of a 3 part series
Writing about the best coastal walks in North Cornwall is a delight, simply because you're spoilt for choice, with its endless possibilities of stunning routes. So we can give each part of this rugged coastline some real attention, we'll break up the northern coast into 3 parts.
Here we'll look at Morwenstow in the far north down to Tintagel, which is mid-Cornwall, a distance of almost 27 miles, mainly on the coastal paths.
Over the entire distance, the scenery is breath-taking, which sounds like a cliché, but it's true, especially if the weather is whipping up on the open clifftops.
1) Higher Sharpnose Point to Northcott Mouth Beach (5 miles)
This stretch of the North Cornwall coastline begins near Morwenstow, one of the most northerly villages in the county. From here, you can easily reach Hawker's Hut, the smallest National Trust property. Marvel at the spectacular panoramic views of the rugged coastline from Higher Sharpnose Point, the scene of many shipwrecks. Walking south along the SW Coast path, you'll pass Duckpool Bay, a remote beach with rock pools surrounded by flowery coastal grasslands and cliffs – picture postcard stuff. In summer, you might also be lucky to meet an ice cream van.
Further down the coast still, grab yourself a cuppa, a hearty Full English breakfast or a traditional Cornish cream tea at Sandymouth Café which offers stunning views over the beach. Sufficiently refuelled for the remaining mile, you'll experience yet more wonderful seascapes as you reach Northcott Mouth Beach.
2) Northcott Mouth Beach to Widemouth Bay (5.5 miles)
This 5-and-a-half-mile stretch is much easier terrain as the path runs beachside from Northcott Mouth Beach, a vast sandy expanse at low tide. Your coastal path route offers gorgeous views of the rugged landscape. Bude Sea Pool, a semi-natural sea pool attracts swimmers, paddleboarders and, of course, those who simply want to sit and watch the world go by. Treat yourself to brunch or lunch at one of Bude's multiple eateries.
Taking up the path again at The Castle Bude , you'll quickly reach Compass Point (also known as the Pepper Pot) an historic landmark on the North Cornwall coast with superb views over Summerleaze Beach. A pleasant stroll over fairly flat terrain brings you down into Widemouth Bay, where you will find several options for rest and refreshment.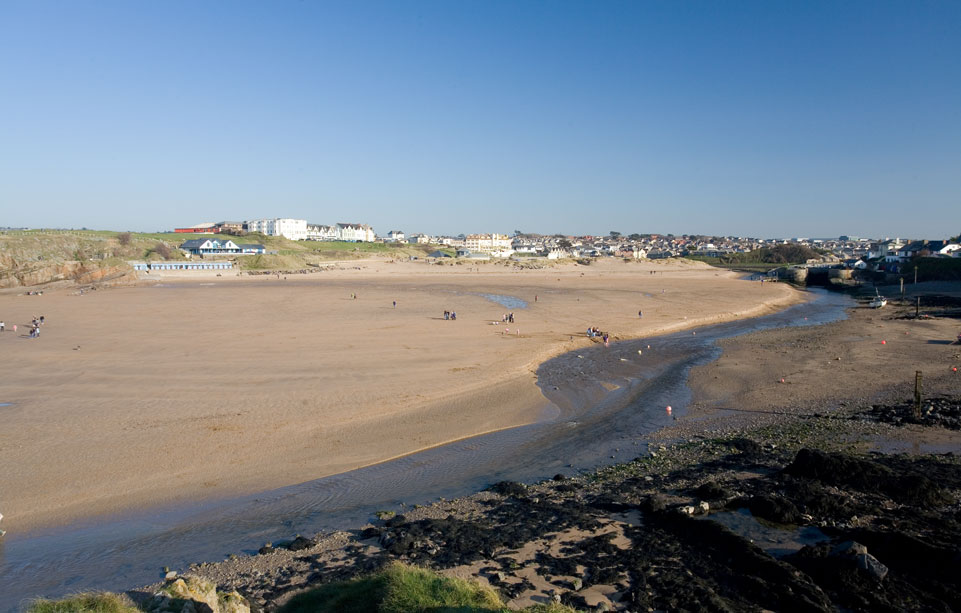 3)   Widemouth Bay to Crackington Haven (5.2 miles)
Keeping these walks at around 5 miles means that you can cover them in a morning or an afternoon. The coastal path walk from Widemouth Bay into Crackington Haven is rockier and more strenuous than the beach route into Widemouth, but you are rewarded with spectacular views over the cliffs, especially Millock Cliffs. These cliffs, which are highly folded in structure, are of geologic importance, situated in an area of outstanding natural beauty.
Approaching Crackington Haven, pass by Dizzard Wood, which is home to many rare lichens and mosses that thrive in the clean North Cornwall air. Crackington Haven beach is popular with swimmers and surfers and benefits from wonderful cliff top vistas. The Cabin Café will revitalise you, welcoming naughty kids, muddy gumboots and 4 legged-friends.
4)   Crackington Haven to Pentargon Waterfall (5.5miles)
The next route takes in High Cliff, the highest cliff in Cornwall at over 700ft, so this stretch is again strenuous, but the views are phenomenal. You can see across The Strangles to Cambeak looking north and to Boscastle and Tintagel to the south. Absolutely stunning!
An area teaming with wildlife, this is a great walk for birdwatchers and those interested in geology. Pentargon Waterfall, at 120ft, is an impressive end to this route, just a short distance from Boscastle.
5)   Pentargon Waterfall to Tintagel Castle (5.8 miles)
We finish this section of coastline with a route heading south to Tintagel Castle, built in the 12th Century by Henry III's brother, Richard, Earl of Cornwall. As the coastal path runs south from Pentargon Waterfall, there are numerous opportunities for birdwatching and seal spotting, particularly around Willapark and the rock arch called Ladies Window.
Bossiney Cove is a gem of a sandy beach which, at low tide, joins up with neighbouring Benoath Cove. If you are feeling energetic, you can go coasteering here.
At Bossiney, there are several places to rest your weary legs and sample the delights of fresh local seafood or a quick coffee and cake to give you energy for the last mile or so to the castle. Don't forget to take time to visit Barras Nose, a headland which provides wonderful views over Tintagel Island and the ruined castle.
In part two of this series we'll pick up at Tintagel Castle and take in the gorgeous Pentire Point nature reserve, stunning Portreath Beach and will wind our way down to Newquay, the surf capital of the UK.