At this time of year there is one enigmatic native flower that truly seems to herald the arrival of spring – the bluebell.
It can be easy to take this little plant for granted when fortunately they have become such a common sight in our gardens, hedgerows and parks, but after a long and dark winter what better way to celebrate the arrival of the sunny (hopefully) summer months than a day out to take in these little indigo beauties!
This is our guide to some of the best places in Cornwall to see their splendour!
Enys Garden, Penryn
In spring time the meadows of the Enys estate, known as Parc Lye, simply explode into colour. It is said that the ground here hasn't been ploughed for centuries and left undisturbed the little blubs have been allowed to spread unhindered across the parkland creating a stunning display each year.
The amazing carpet of blue flowers really are a sight to behold!
This year the Enys Bluebell Festival and Art Exhibition runs from 30th April until 8th May.
 Godolphin House, Helston
This 700 year old estate is tucked away in rolling countryside just a few miles from the town of Helston. Owned by the National Trust it is a popular retreat for walkers whatever the season but every year visitors are drawn here for their wonderful bluebell festival too.
There are acres of peaceful woodland to explore and for a few weeks in spring you can enjoy the thick covering of purpley-blue flowers beneath the shady ancient trees.
 Pencarrow House, Bodmin
The gardens here combine formal landscaping with natural woodland and in the spring there is a dazzling display of more than 600 varieties of camellias and rhododendrons in bloom.
But one of the gardens best known attractions are its bluebells and wild garlic that simply carpet the woodland throughout spring.
Pencarrow hold a Bluebell Sunday each year, usually in early May. There is free parking and dogs are welcome too.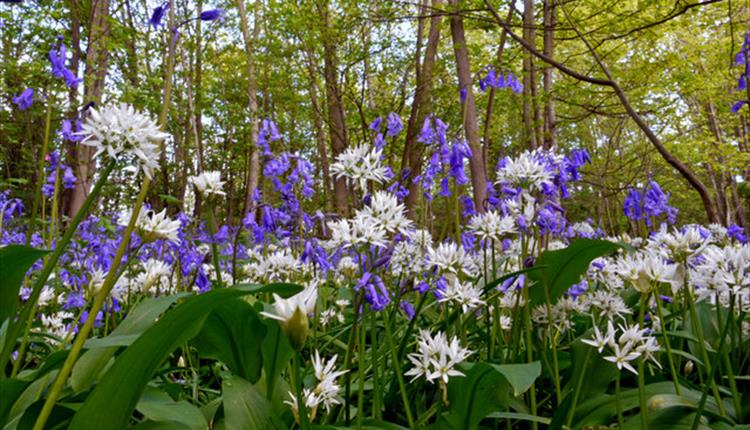 Antony Woodland, Torpoint
Antony House at Torpoint was once the setting for Tim Burton's fantastical film 'Alice in Wonderland' and beside this historic National Trust house is the privately owned Antony Woodland Garden, one of Cornwall's best kept secrets.
Here in spring a thick area of trees known as 'the Cathedral' becomes the stuff of daydreams where enchanting swathes of bluebells and wild garlic cover the ground, a real delight for your senses.
 Tehidy, Camborne
With around 250 acres of woodlands and miles of footpaths to explore Tehidy is one of the largest area of woodland in Cornwall. Beneath the canopy of established native trees a whole variety of woodland plants and animals thrive and when the bluebells appear the scene becomes even more magical.
This is a great natural playground for the young and the not so young to discover!