Tintagel to Pentire Point
The first part of this three-part series on coastal walks in Cornwall took in the North Cornwall coast from Morwenstow down to Tintagel castle – 3 walks each covering 5-6 miles. Just enough to work up an appetite for lunch or dinner.
This time we will pick up at Tintagel, which according to legend is where King Arthur was conceived, and wend our way to Pentire Point. This route offers some delightful sandy beaches, rocky coves and superb viewing points and includes some more challenging elevations along the way.
Tintagel to Tregardock Beach (4.3 miles)
The first part of the walk starts at Tintagel Castle and heads out past Glebe Cliff, which is believed to be the site of a royal cemetery. A little further south you'll come to St. Materiana's church, built between 1080 and 1150 with its Norman font and a Roman milestone in the south transept. Plenty for history lovers here.
Offering fantastic scenic views and a relatively easy gradient, the coastal path skirts alongside the village of Treknow as it drops down to the gorgeous Trebarwith Beach. A great stop to refuel with freshly caught fish and chips or West Country rump steak at the Port William Inn.
You'll need some energy for the next part of the walk which has an elevation of 300ft (90m) to the top of Dennis Point with superb views. A little further along is Backways Cove, the scene of many shipwrecks – legends say it is haunted by the ghosts of many mariners trying to get to shore. It's a great place for snorkelling, but only if the sea is very calm as there can be large swells. After 1.5 miles or so the path brings you to Tregardock Beach which is often quiet as the nearest parking is around 15 minutes' walk away.
At low tide, the beach is large and sandy, but at high tide, the water buts right up to the cliffs. There are no other facilities at this beach, so you'll probably want to join this walk up with the next one and head into Port Issac.
Tregardock Beach to Port Isaac (4.8 miles)
This part of the Cornwall coastline includes private roads and is very challenging with a series of peaks and troughs. The landscape is wild and rocky – not for the fainthearted. You are rewarded for your efforts though as the views are incredible, especially around Bounds Cliff, which at 420ft above sea level is a fantastic spot for birdwatching.
The path can be tricky – muddy and slippy in some areas, so take care but if you are fit, it is well worth the effort as you can look down into the idyllic Port Isaac. Port Isaac was the setting of the film and true story Fishermans Friend.
Port Isaac's quaint streets offer a number of great places to eat and recharge including the highly acclaimed Outlaw's Fish Kitchen from celebrity chef Nathan Outlaw if you are wanting to treat yourself, but make sure you book as the this is a tiny restaurant. Or go simple at Fresh From The Sea, a little café with their own boat that brings in freshly caught crab and lobster for delicious sandwiches and salads.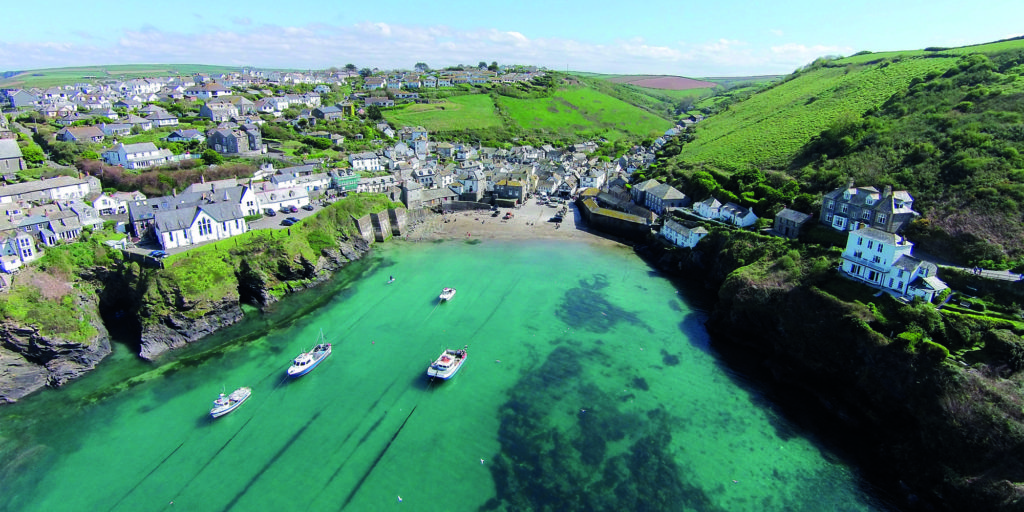 Port Isaac to Pentire Point (7.4 miles)
The path out of Port Isaac offers some breathtaking sections of north Cornish coast including Kellan Head, Scanor Point and the Rumps which all jut magnificently into the Atlantic. Port Quin, a small village on the route offers a rest point just over halfway through this walk where you can stop at the The Salt Pig, a food truck for sandwiches, cakes and hot drinks. Please check before your walk for opening hours.
Doyden Castle, a tiny 19th Century house and a National Trust property lies just outside of Port Quin and offers spectacular sea views. This part of the walk is fairly easy compared to the previous section but there are a couple of climbs as you head towards Lundy Beach, great for crabbing in the rock pools. The beautiful natural arch, Lundy Hole, here makes a great photo to turn into a postcard.
As you near the destination of Pentire Point, the gradients are more gradual so you can catch your breath. Pentire Peninsula is designated a site of Special Scientific Interest for its flora, fauna and geology. From this point there are fabulous views of Padstow Bay to the south and the Rumps to the east.
In part 3 of our north coastal walks you will take in the buzzing Polzeath beach, the Rock Ferry and the world-famous Padstow.
For more details on each of these walks visit South West Coastal Path.