874 miles from John O'Groats, 3,147 miles from New York, it can only be Land's End. Or more specifically, the signpost that half a million people queue to have their photo taken beneath each year. But is there more to this Cornish icon than an Instagrammable moment at Britain's westernmost point?
1. Ancient history
The site of Land's End has drawn and inspired people for thousands of years. Discoveries of ancient artefacts from the Mesolithc period have been uncovered here, and it's said people in the time of the ancient Greeks called it Belerion: Place of the Sun.
Tourism can be traced back to 1649, when poet John Taylor wrote his first guide book Wanderings to see the Wonders of the West. By the Victorian age, train links to Penzance brought people in far greater numbers – although it involved an extremely bumpy onward journey by coach.
2. Wildlife
Land's End is an Area of Outstanding Natural Beauty and home to some incredible flora and fauna. Visit the RSPB Wildlife Discovery Centre at the visitor attraction and use their powerful telescopes to see much more than crashing waves. Gannets, fulmars, shags, kittiwakes and grey seals can all be spotted and, if you're lucky, a dolphin or basking shark might make an appearance.
3. Eating
You'll undoubtedly be hungry after taking in the bracing coastal views. There are a number of food options to choose from, including the self-service Cornish Pantry, takeaways from the Bakehouse and sweet snacks at the Land's End Doughnut Company.
For something a bit more upscale, try the Land's End Restaurant, with a fine view across the Atlantic Ocean. Outside the complex, and with a good deal more atmosphere, is The First and Last Inn in Sennen Village, a mile from Land's End. With previous patrons including smugglers, wreckers and ghosts, this 700-year-old pub is rich in history and has a decent menu to enjoy while you soak it all up.
4. Shopping
At the visitor attraction, West Country Shopping Village and Penwith House all trade in gifts, clothes and souvenirs, including replicas of the famous signpost. Visit the First and Last House which lays claim to being one of the country's first gift shops. Opened by Gracie Thomas in the 19th century to capitalise on the boom in tourism at Land's End, she originally sold pieces of local granite with 'Land's End' stamped on them.
5. Fireworks
One recent innovation you won't want to miss if you're visiting in the summer is the twice weekly fireworks display. 'Magic in the Skies' promises 'a thrilling cocktail of pyrotechnic wizardry and vibrant explosions' accompanied by specially composed music from Christopher Bond and narration by the actor and national treasure, Miriam Margolyes.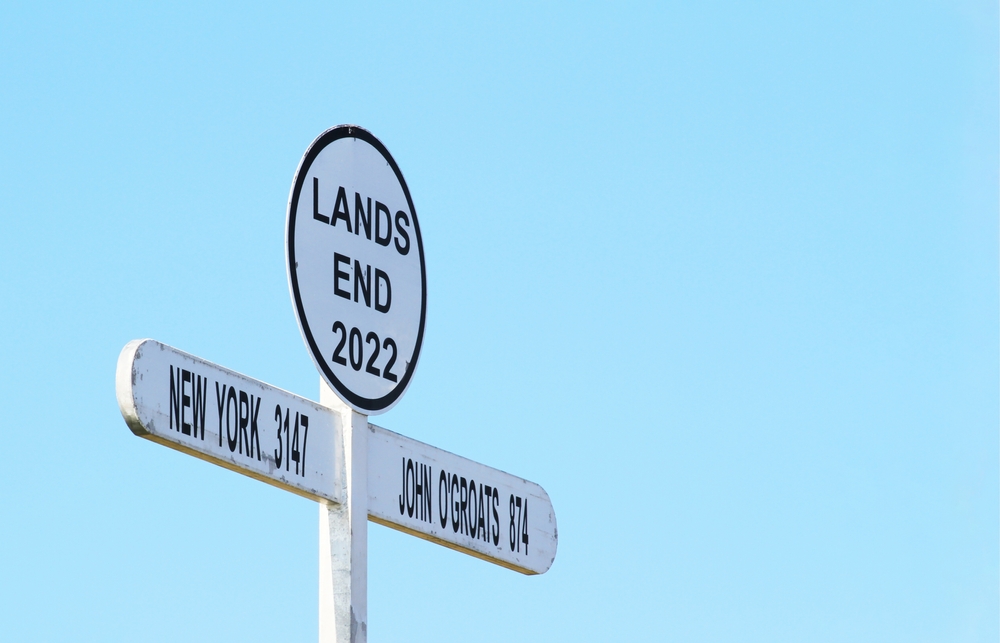 6. The Beach
A 30-minute walk along the South West Coast Path leads to Nanjizal beach, a beautiful secluded bay that feels far away from the hustle and bustle of the visitor attraction. There are natural stone sculptures, waterfalls and caves to explore.
7. End to End
Land's End will forever be synonymous with its furthest British neighbour, John O'Groats in the far north of Scotland. Every year, people make the journey which takes 14 hours by car or up to three months on foot! The End to End story is a fascinating exhibit at the visitor attraction, celebrating the stories of people who have completed this 800-mile challenge.