Once the preserve of the eccentric and the superhuman, plunging into the freezing Cornish sea over the festive period has become one of the region's best loved traditions. So if you're in Cornwall over Christmas, shake out your beach towel and jump in for an instant detox at one of the many swims organised between Christmas Eve and New Year's Day.
Coverack Harbour, Helston
 People have been crossing this pretty harbour for more than 50 years. The story of one of Cornwall's oldest festive swims began when a local doctor was dared to take the plunge one Christmas morning. People have been taking up the challenge ever since, and today there's the added incentive of warming yourself by the fire at the Fisherman's Rest pub with a cup of mulled wine. Any money raised from this event goes to Cancer Research.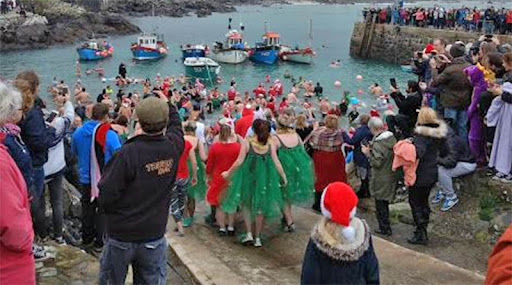 Crooklets Beach, Bude
No wetsuits are allowed at one of the county's biggest Christmas Day swims. But that doesn't stop 500 people diving into the Atlantic Ocean each year. Crooklets Beach is a popular spot for surfers, and money raised goes to the Bude Surf Life Saving Club, allowing them to train their volunteer lifeguards and keep the waters safe all year round. This well organised event includes a warm-up, post swim hot shower and mince pies aplenty!
Trevaunance Cove, St Agnes
Another icy swim that started with a dare, the Trevaunance Cove event began when a landlady challenged five locals to take a dip in their boxer shorts in exchange for a free pint. Today, several hundred swimmers take to the bay on Christmas Day at 11am. That landlady has since stopped serving pints, but there's still plenty of steamy mulled cider waiting to warm your cockles at the Driftwood Spars Inn.

Charlestown Beach, Charlestown
If you can't quite rouse yourself from the Christmas Day torpor, never fear, there's plenty more wild winter swimming to enjoy on the 26th! In historic Charlestown, the Rowing Club's Boxing Day event is now in its thirtieth year. Swimmers are encouraged to don fancy dress and raise money for charities including Churchtown Outdoor Activity Centre for the Disabled, the RNLI and Cornwall Hospice Care.
Porthminster Beach, St Ives
This Boxing Day dip takes place just minutes from St Ives town centre, so you can expect plenty of onlookers cheering you on as you purge the last vestiges of Christmas overindulgence. Swimming begins at midday and there's hot chocolate and bacon sandwiches on sale at the beach café afterwards, or for onlookers who don't quite fancy taking to the water themselves.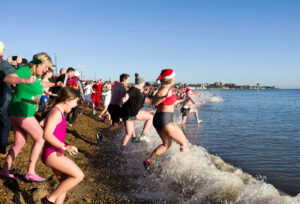 While most of these events are supervised by the RNLI, here are a few things you should bear in mind before you brave the sea this Christmas.
Pack warm clothes and coats that you can easily pull on with shaking hands. A big fluffy towel and dressing gown are the best way to dry off fast-freezing water.
Bring a flask of something hot and sugary to boost energy levels.
If you're not used to swimming in cold water, don't stay in too long, particularly if you're without a wetsuit.
Warm up and warm down. It's crucial that you keep moving and allow your blood to keep pumping.
Check with organisers before you set off. Inclement weather, high seas and Covid restrictions could mean the event is cancelled at short notice.