With its dramatic landscapes and stunning golden beaches, Cornwall offers photographers endless opportunities for capturing that perfect snap to share with family, or make friends jealous on social media.
But as we discovered in our previous blog, Capturing your Cornish Memories isn't always as straightforward as it looks, even if you are blessed with perfect weather and a top end smartphone camera.
Here are some of the techniques we've found useful when trying to do justice to this wonderful landscape.
Taking photos in the sun…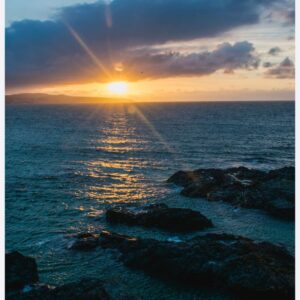 Photographers and artists have long been drawn to Cornwall for its incredible light. Obviously
everything looks better on a sunny day, but that doesn't necessarily translate into great photos. Images can end up looking bleached out and figures cast in awkward shadows. Experiment with different angles, try standing with the sun behind you, or shoot directly into its full glare to capture sunspots which can add character to a shot without the need for filters.
…and the rain
Don't be put off taking pictures in the rain. The light breaking through dark clouds, particularly when captured hitting the sea during a heavy shower, can create a startlingly moody effect. Similarly traditional Cornish landscapes such as Bodmin Moor never look better than on a heavily overcast day.
Avoiding the crowds
When visiting Cornwall's more Instagrammable spots, whether that's snapping surfers at Porthmeor beach or documenting the cobbled streets of St Ives, you may find yourself lining up to get the shot you're after. If you want to avoid the crowds, do what the professionals do and get up early or go late. It will not only be quieter, but you'll see these locations in an entirely different light.
Embrace the documentary spirit
Alternatively, if you can't be bothered to get up early (it is the holidays after all) then make a virtue out of the crowds and incorporate them into your photos. Get amongst people, capture their reactions and you'll soon be producing photographs that reflect the energy of the moment, rather than feeling irritated when they block your perfectly posed shot.
Make your Cornwall photographs stand out
A quick scroll through social media hashtags quickly reveals many versions of exactly the same photograph, differentiated only by a changing cast of people. For some this is precisely the point – a digital marker that serves a similar function to a postcard, saying "I was there." But if you're after a little more individuality you don't have to go far. Head a little way off the beaten track, find higher ground or shoot in the sand dunes rather than the beach and y
ou can easily find a new angle on a familiar scene.
Check your timings
A little preparation is key if you're looking for a specific shot. If you're visiting the beach, check the tide times to make sure the sea isn't too far out. Alternatively arrive at low tide and you might discover some hidden delights, such as the hidden caves at Kynance Cove.