Cornwall has such stunning natural scenery it is easy to overlook some of the wonderful architectural gems that we have hiding on our high streets or out in the quiet countryside. One such treasure, a real showstopper, can be found in Penzance.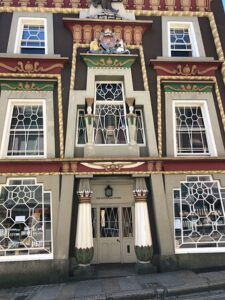 Egyptian House is a rare survivor of a style of architecture that became fashionable after Napoleon's campaign in Egypt. It can be found on Chapel Street, a road lined with historical buildings, many dating from the 1800s, but Egyptian House was built later in the 19th century. In 1835 a mineralogist, John Lavin, purchased two adjacent cottages, Nos 6 -7 Chapel Street, in an auction for £396. Over the next few years he had the buildings completely transformed into a remarkable pseudo-Egyptian masterpiece. The colourful, exotic design with lotus buds, fans, strange figures and huge columns was like nothing that the people of Penzance had ever seen before and unsurprisingly it caused a considerable stir about the town and wider countryside. The house has been something of a tourist attraction ever since.
The designer remains a mystery
But who actually designed this joyous riot of colour remains a bit of a mystery. The front elevation is very similar to that of the former Egyptian Hall in Piccadilly in London, designed by Peter. F. Robinson, but it also bears a striking resemblance to the Odd Fellows Hall in Devonport which we know was built by local man, John Foulston.
Lavin moved into the finished building in 1837 and turned the bottom floor into a museum and a shop, which he filled with his large collection of mineral specimens. The upper floors are divided into three apartments joined by an internal spiral staircase from which quirky curved oak doors open into the classically appointed rooms.
The house remained in the Lavin family until 1910 by which point it was in serious need of repair. By the 1960s Egyptian House was in a sad state, filthy and barely recognisable, the bright colours had been painted over with dull browns and creams.
Thankfully the building was sold to the Landmark Trust, who specialise in the restoration of properties of architectural and historic importance, in 1968 and they made it their mission to return the house to its former glory. Today Egyptian House must be one of the most photographed buildings in Cornwall.