Why are producers of film and television drama so drawn to Cornwall? It's probably the same reason we all are: dramatic beauty, natural atmosphere and huge variety. Cornwall has played host to everyone from scythe swinging swooners to the architects of the swinging sixties. Many of these locations are open to visitors and offer insight into the making of your favourite films and TV programmes.
Poldark
BBC audiences have fallen in love with the Cornwall of Ross Poldark not once but twice. True, the lead character's aforementioned topless farming exploits may have had something to do with its popularity. Almost as acclaimed is the port of Charlestown, which comes complete with tall ships and an unspoiled 18th century ambience. 
Alice in Wonderland
There aren't many places where fans of Lewis Carroll or director Tim Burton can experience a genuine sense of the strangeness of their work, but Antony House in Torpoint comes close. This 18th century National Trust property was the setting for a grand garden party in the 2010 movie version of Alice in Wonderland. Curious fans will enjoy the quirky topiaries, maze like formal gardens and extensive woodlands where you are very welcome to search for rabbit holes. 
The Witches
If you're in Cornwall over Halloween, why not book tea at the Headland Hotel in Newquay? If you have children with you it might be wise to check first for visitors wearing gloves and scratching their heads. For this is the location of Nicolas Roeg's 1990 film adaptation of Roald Dahl's deliciously evil The Witches. Every year the hotel celebrates its connection with the gruesome children's classic with a spooky afternoon tea.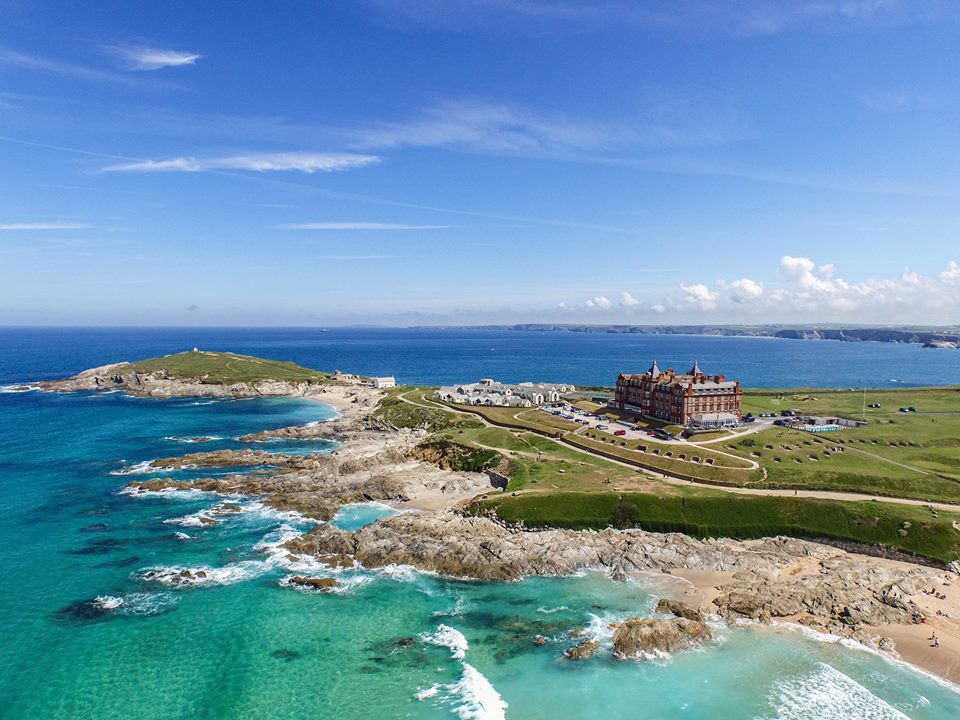 Jamaica Inn
If you've read our post about Daphne du Mauriers Cornwall or our Daphne du Maurier fans guide to Cornwall you'll already be aware of some of the locations featured in her stories. Her novel, Jamaica Inn was filmed by Alfred Hitchcock for his 1939 movie version. Miraculously the 1750 building which inspired the story and featured in the film is still a functioning pub on the edge of Bodmin Moor. And although much of the dark atmosphere is long gone, there are enough beams and wonky floorboards to give you a sense of the place as it was in Daphne du Maurier's day.
Magical Mystery Tour
Beatles' fans might want to book themselves in for an evening of ballroom dancing on the sprung floor of Newquay's Atlantic hotel. The fab four escaped from their yellow touring bus and stayed here for three nights during the filming of their 1967 film Magical Mystery Tour. A swimming pool scene was directed by John Lennon here, and it was in the bar and ballroom that they relaxed after filming and both are still open for drinking and dancing.
Doc Martin
Port Isaac will be familiar to viewers of ITV's Doc Martin as Port Wenn. Its narrow cobblestoned streets have been filmed from every conceivable angle over the show's nine series, so superfans should allow themselves several hours to find all their favourite locations. Visitors will want to stop by for fudge in Harbour Treats, the only interior location used in the series. If you want to make a day of it, book lunch at Outlaw's Fish Kitchen, a Michelin starred hangout of Doc Martin himself, Martin Clunes.
Fisherman's Friends
Port Isaac is a popular filming location, being host to this 2019 British romantic comedy. The film is based on a true story about Port Isaac's Fisherman's Friends, a group of Cornish fishermen bound together by lifelong friendship and experience meet and paly on the Platt (harbour) to raise money for charity and sing traditional songs of the sea. They were signed by Universal Records and achieved a top 10 hit with their debut album in 2010 'Port Isaac's Fisherman's Friends'.