For centuries in Cornwall a peculiar natural phenomenon has not only been giving pleasure but has also been to a certain extend imbued with magical properties – the logan rock.
The word logan comes from the Cornish 'logging', meaning rocking, and refers to a select number of rocks which, through some a happy accident and the work of millions of years of weathering, are on a pivot. These giant stones can be rocked with only small effort despite their enormous weight.
Simpley put, a logan rock (pronounced log as in dog) is a rock that moves and there are several fine examples in Cornwall including one at Helman tor and another on Louden Hill on Bodmin Moor. But the most famous of all of Cornwall's logan rocks is the one at Treen in the far west. It sits on a stunning stretch of coastline close to Porthcurno beach and the famous Minack Theatre. The logan stone at Treen is reputed to weigh around 60 tons but because of its perfect pivot it is said that it could be once rocked with ease by a small child.
The rocks that rock
Sadly however a thoughtless prank nearly ruined everyone's enjoyment!
In April 1824 Lieutenant Hugh Goldsmith was visiting the area while in command of a revenue cutter and apparently heard about the legend associated with the logan rock, it was said that no mortal man could dislodge the huge stone from its axis. So Goldsmith and 14 crew decided to prove the myth wrong. After several hours of struggling with iron bars they succeeded in prying the impressive stone from its position on the rocky headland and it rolled away down the cliff.
But Goldsmith and his crew had underestimated the importance of the stone to the local people and the seriousness of what they had done. People in the area were understandably furious at this blatant act of vandalism and were determined that someone should be punished. Not only did the logan stone have mystical and historical importance to them it also brought in money from the visitors that came to see it and set it in motion.
Goldsmith started to fear for his safety and wrote to his mother on 24th April 1824 saying that "the Rock was so idolized in this neighbourhood. I found all Penzance in an uproar. I was to be transported at least. The newspapers have criticised me, and made me worse than a murderer, and the base falsehoods in them are more than wicked".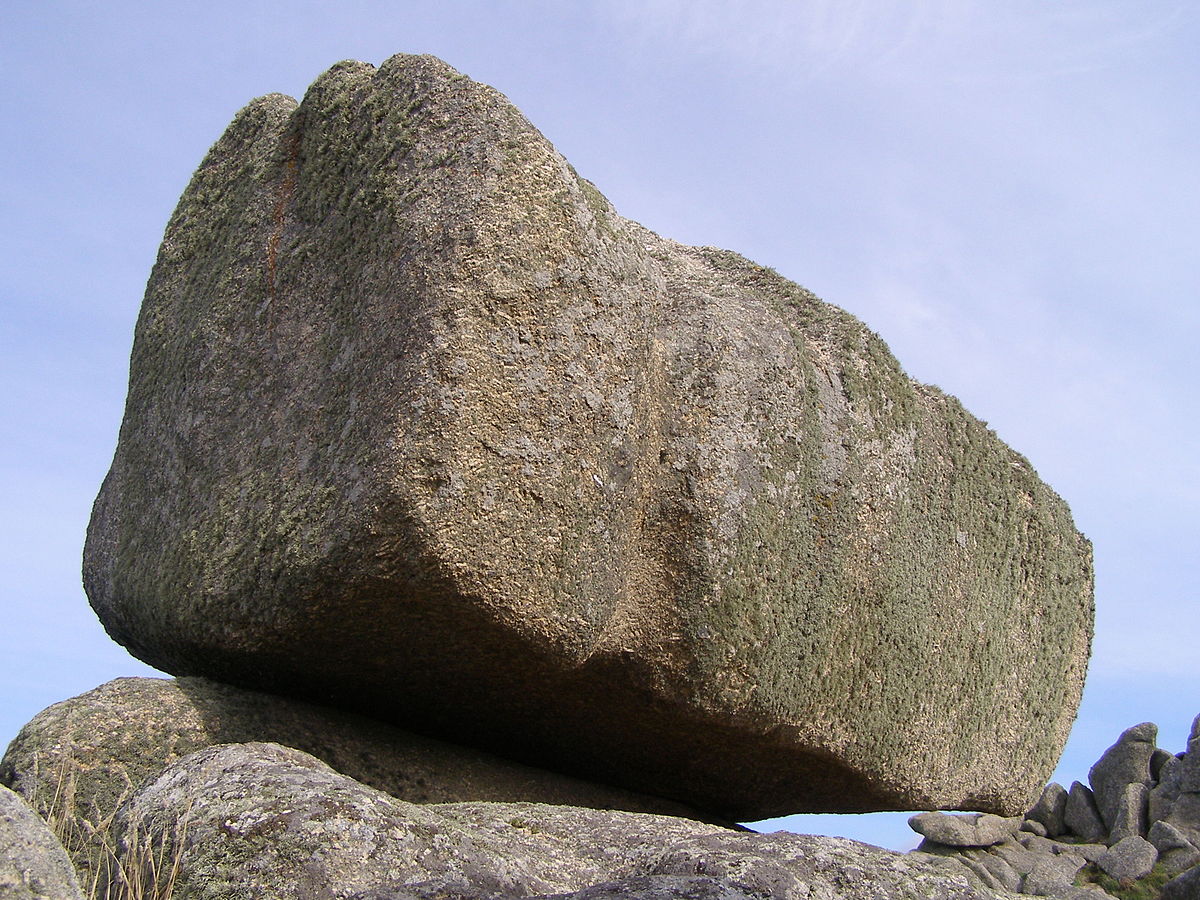 Replacing the logan rock was not that easy
What he had done was reported to his superiors in the Admiralty and Goldsmith was told do whatever necessary to replace the stone immediately. This was not an easy undertaking however and it took several months to organise the necessary equipment. But on 6th November 1824 the Royal Cornwall Gazette reported that crowds of people had watching the rock being hoisted back up the cliff with cranes, winches and sheer manpower. It was reported that a great cheer went up when the stone finally rested in its former position and was seen to rock. The whole operation was said to have cost Goldsmith around £125 which would be roughly £8000 in today's money.
Sadly however although the stone was replaced as promised it never moved in the same way as it had done before. But this stretch of coastline is well worth a visit and if you have a head for heights climb up to the logan rock and try it for yourself! The headland is also the site of Treryn Dinas, also known as Treen Castle, an Iron Age promontory fort formed by a series of banks and ditches cutting it off from the mainland. One has to wonder what the builders made of the logan rock some 2000 years ago.
If you'd like to read more about the story of Logan Rock visit The Cornish Bird – The raising of Logan Rock